Ready for Bluetooth® Adapter
With an optional KS-BTA200 adapter, Bluetooth® Wireless Technology functions are available on the KD-AVX11, offering hands-free calling and audio streaming for a safer and more convenient drive.

Just 1-DIN Size
The entire KD-AVX11 comes in a compact 1-DIN size, including the monitor, making it an easy fit for any type of car.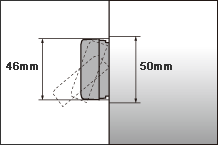 Multi-format AV Playback including DivX®
The KD-AVX11 is compatible with multiple formats, including MP3/WMA/WAV and DivX®/JPEG/MPEG1,2. This system is a DivX® Ultra Certified product, and can play PC-created DivX® video files from a DVD/CD. The powerful compression of DivX® can fit 10 movies onto 1 DVD, or 1 movie onto 1 CD, without sacrificing picture quality.

Multilingual Display
The system features a multilingual display, with GUI text and MP3 tags available in English, Spanish, French, German, Italian, Dutch, Swedish, and Danish.

GIGA MP3 MULTI
The KD-AVX11 features GIGA MP3 MULTI, which lets you play back MP3, WMA, and even WAV files burned on DVD. With MP3 and WMA files, DVD's 4.7GB can hold 250 hours of recording, letting you store up to approximately 2,500 songs on a single disc - equal to 250 pre-recorded CDs. If you want even more superior sound quality, burn WAV files on DVD. A single DVD disc can store about 100 WAV files - equal to 10 pre-recorded CDs. This means you can enjoy non-stop entertainment with CD-quality sound, without an additional CD changer.
| | |
| --- | --- |
| * | The figures above are approximate. |

Ready for iPod
You can listen to iPod music with an optional KS-PD100 adapter. The iPod can be controlled from the head unit, and song information is displayed with the same categories and layers as an iPod.

Rear View Camera (Optional)
An optional rear-view camera can be attached for greater safety. Its compact size allows it to be set up wherever you like.
KV-CM1K

SAT Radio Ready
Connect the head unit with a separately sold XM Satellite Radio or SIRIUS Satellite Radio tuner, subscribe to satellite radio, and hear a variety of programs from over 100 channels - pop, classic, rap, metal, news, sports, and more - with CD-quality sound.