Firmware Download for GZ-F170, GZ-R410, GZ-R415, GZ-R420, GZ-R428, GZ-R430, GZ-R435, GZ-R440, GZ-RX610, GZ-R615, GZ-R620, GZ-R630, GZ-R640, GZ-R645
File Download and Firmware Update Procedure
Firmware update files differ according to the models. Be sure to use the correct file for the model.

Required Tools

Everio, supplied AC adapter, SD memory card.
*To secure the power supply during update, connect both the AC adapter and the battery to Everio. Before updating, be sure to charge the battery capable of shooting for 30 minutes or longer.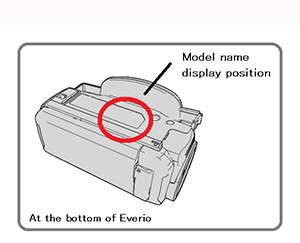 Firmware update procedure
Select an update file for your model from the table below, download the file, and then save the file to the desktop of the PC.
Extract the downloaded file.
Copy the extracted "update" folder to the root directory of SD memory card.
Confirm that power is off, DC plug is removed from Everio.
Insert the SD memory card which has been copied "update" folder to the SD card slot of Everio.
Connect the DC plug of AC adaptor to Everio.
Turn on the power.
Execute update by choosing [MENU] > [SETUP] > [FIRMWARE UPDATE].
Proceed according to the instruction on the screen.
*The update will take one to three minutes.
| Model name | Update file | File size | Version |
| --- | --- | --- | --- |
| GZ-F170*TW | fw_f170_a0e.zip | 25,880KB | 3.01 |
| GZ-R410*EU | fw_r410_a0e.zip | 25,884KB | 2.01 |
| GZ-R415*EU | fw_r415_a0e.zip | 25,884KB | 2.01 |
| GZ-R420*AC | fw_r420_a0e.zip | 25,884KB | 2.01 |
| GZ-R428*AH | fw_r428_a0e.zip | 25,884KB | 2.01 |
| GZ-R430*EU | fw_r430_a0e.zip | 25,884KB | 2.01 |
| GZ-R435*EU | fw_r435_a0e.zip | 25,884KB | 2.01 |
| GZ-R440*US | fw_r440_a0e.zip | 25,884KB | 2.01 |
| GZ-RX610*EU | fw_rx610_a0e.zip | 39,960KB | 2.01 |
| GZ-RX615*EU | fw_rx615_a0e.zip | 39,960KB | 2.01 |
| GZ-RX620*AC | fw_rx620_a0e.zip | 39,960KB | 2.01 |
| GZ-RX630*AH | fw_rx630_a0e.zip | 39,960KB | 2.01 |
| GZ-RX640*EU | fw_rx640_a0e.zip | 39,960KB | 2.01 |
| GZ-RX645*EU | fw_rx645_a0e.zip | 39,960KB | 2.01 |