Take your iPod out for a drive  Ethe lineup now includes iPod direct control models, as well as models ready for iPod adapters. You can control them with the head unit in the same way as you do with the iPod itself.

Simple Connection and Full Operation
You can connect your iPod directly to the compatible head unit and play your music on board. Operation is easy, with information displayed on the head unit with the same categories and layers as on an iPod.
Connection cable provided


Direct Connection to iPod
Ready for iPod
With this optional adapter, you can enjoy your iPod tunes with your head unit. You can control the iPod from the head unit  Efor listening to digital audio via your in-car audio system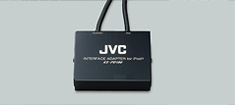 Information display with the same categories and layers as an iPod
Battery recharge for the connected iPod
Space-saving hideaway unit

Check out the compatible JVC head units and available functions with KS-PD100 Interface Adapter for iPod.
iPod, iTunes and iTunes Store are trademarks of Apple Inc., registered in the U.S. and other countries.